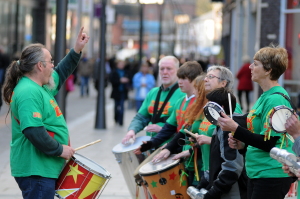 We are a percussive group playing samba influenced grooves and global beats from Brazil, Cuba and Africa.
We aim to promote, support and develop percussion-based music and related carnival arts in our local community. We have a variety of drums as well as hand held percussion instruments, so tall or short, young and not so young can find something to suit them.
Led by our Musical Director, Zac Sargent, with a wealth of drumming and percussion knowledge and experience from around the globe.
During the summer months you will find us performing our music and providing a lively carnival atmosphere at some of the region's premier outdoor events.
The band warmly welcomes new members, young and not so young.  This is a great opportunity to really be part of the joy, fun and explosion of energy that is carnival!
 FIRST SESSION IS FREE
Date:   Every Saturday
Time:  11.00am – 1.00pm
Place:  St Francis House, All Saints Church, Hebburn Drive, Bury, BL8 1ED
Cost: First session free, then £6.00 full, £5.00 concessions.
For  more information relating  to  the  band, including prospective new members and performance enquiries, please contact blocoashe@gmail.com  or send a message via our Facebook page.